Developing a more traditional architecture that connects the city to the lake, Kenmore is playing off of its rich history, creating a thriving downtown that will promote economic vitality while preserving existing businesses.
While pedestrian walkways maximize public views of the lake, water features and bike friendly pathways into downtown's new open spaces create a park-like setting that is both safe and inviting. This make downtown Kenmore more beautiful and user friendly than ever!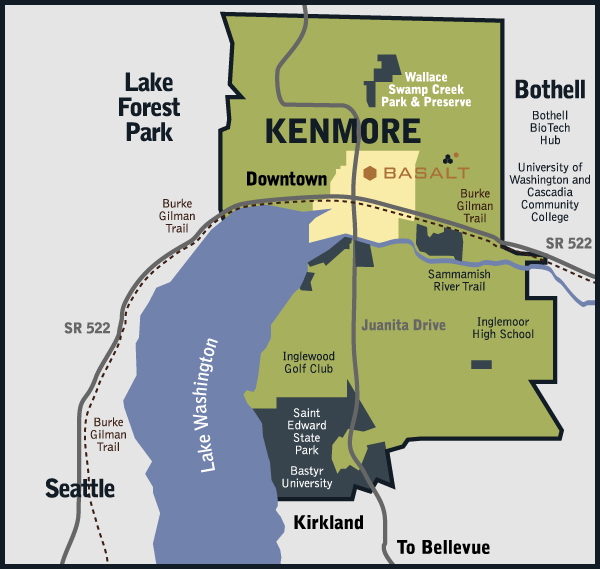 Saint Edwards State Park
A day-use park with sprawling lawns and forested nature trails, all set around impressive Romanesque Revival style brick buildings of a former Catholic Seminary. One of Kenmore's quiet park havens in the midst of the urban hustle. Saint Edward's State Park is the largest remaining undeveloped area on Lake Washington. With 3,000 feet of shoreline and many species of birds, animals, plants and trees including fir, hemlock, alder, maple red cedar and madrone. It is a great place to bring family and groups for picnics, nature activities such as bird watching and photography, fishing, mountain biking and hiking as well as running and walking the trails.
Bastyr Center For Natural Health
Bastyr Center for Natural Health is the teaching clinic of Bastyr University, a leader in natural health arts and sciences education. Providing natural health care for you and your family with natural products and Chinese herbal medicine dispensaries.
The Lakes-to-Locks Water Trail
Blue trails give us a different way to explore and experience our great city's surrondings. They are a great avenue for recreation, history and heritage exploration, a path to improved health and routes to work.
With a series of 100 launching and landing sites and over 130 miles of shoreline to explore, the Lakes-To-Locks Water Trail provides plenty of opportunities for residents to experience their community from the water.
Burke Gilman & Sammamish River Trail
The Burke-Gilman Trail is one of the region's most valued and used recreational assests, running for more than 18 miles and linking Kenmore to Seattle and Shilshole Bay to the west and connecting to the Sammamish River Trail and Redmond's Marymoor Park to the east.
Inglewood Golf Club
Founded in 1919, Inglewood Golf Club combines a spectacular setting, illustrious heritage, and challenging play. Prevously hosting PGA Men's Tour.
Kenmore Air Harbor
Headquartered in the largest seaplane base in the country, Kenmore Air is the largest seaplane operator in the U.S. Servicing Western Washington and British Columbia for over 60 years with scheduled departure and charter service.
University of Washington Bothell & Cascadia Community College
Less than 3 miles away from Downtown Kenmore, UW Bothell and Cascadia Community College offer a range of two-year degree programs and professional technical certificates. UW Bothell also offers four year undergraduate degrees and several graduate programs.
Northshore School District & Inglemoor High School
Inglemoor High School was named by Newsweek Magazine as one of the top 1500 High Schools in the U.S. Well-known for providing high-quality educational experiences for K-12, the Northshore School District is a reason many families relocate to Kenmore.
Click here to read the Kenmore Fall Newsletter
From the City of Kenmore!
Welcome to the Puget Sound's best-kept secret – Kenmore, Washington. Kenmore is home to talented people, innovative ideas, strong businesses and abundant activities. Just minutes from Seattle and the Eastside, you can swiftly get to everywhere from Kenmore – whether by highway, seaplane or boat. We offer the perfect balance between work and play, and our investment in the future of Kenmore is reaching maximum velocity.
Kenmore is an urban community surrounded by the great outdoors. There are family-friendly neighborhoods, an award-winning school district, quality services, and many cultural amenities. Yet, it is easy to take hike in the woods, bike along Lake Washington, watch rare Herons nest or just drop a kayak in the water. 
Our city is home to talented people who enjoy family-friendly neighborhoods, an award-winning school district, quality services, and many cultural amenities. Residents of Kenmore experience easy access to the region's major employers, local employment opportunities, natural health education and an abundance of outdoor enjoyment.
Local residents will tell you that Kenmore is the truly the best place to live and to work. A strong entrepreneurial spirit is at the core of the city. Kenmore is home to Bastyr University, the top natural medicine university and research institution in the U.S., and the birthplace of many multi-generational business innovators, including Kenmore Camera and Kenmore Air. With a business-friendly city hall, accessible land, and no B & O tax, the city actively helps pioneering businesses soar without limits.
There are active arts and heritage organizations in Kenmore, including a 600-seat state-of-the-art theater. For walking or hiking enthusiasts, the 316-acre Saint Edward State Park has miles of trails. There is a public dock on Lake Washington for fishing and boat moorage and the Burke Gilman Trail is perfect for cycling. A 65-foot reflexology path and a local bowling alley are added interests.
To support the busy lives of our 21,370 residents, the City of Kenmore provides easy access to utilities, transportation information, community services and emergency services.  We've built state-of-the-art facilities - County library, fire station and city hall - and upgraded roads for better mobility and walkability. And, we're supporting smart growth by making the City's permitting, licensing and inspections the fastest in the West.
If you want the best in life, come spread your wings in Kenmore.
The excitement for the City of Kenmore's future is reaching maximum velocity. City leadership is collaborating with employers - such as Bastyr University - and residents to ensure an exciting future as the Puget Sound's next innovation hub.
Kenmore is investing in the development of a natural health sciences and technology zone. Supported by the availability of an educated workforce and easy access to medical and technology universities, such as Bastyr University and the University of Washington Seattle and Bothell campuses, the zone will attract entrepreneurs working on breakthrough technologies and services. It will also help Kenmore multi-generational businesses expand and fuel the local economy. To accelerate growth of the zone, the City invested more than $100 million dollars in improving infrastructure, removed barriers to development and launched a Business Incubator.
With our prime location at the northern tip of Lake Washington, we're investing energy in developing a better sense of place in our downtown core. The Kenmore Village development will bring downtown living and retailers to the city center and Lakepointe will one day invigorate Kenmore's waterfront.
We invite you to come join the excitement for what's next in Kenmore. Come soar with us.